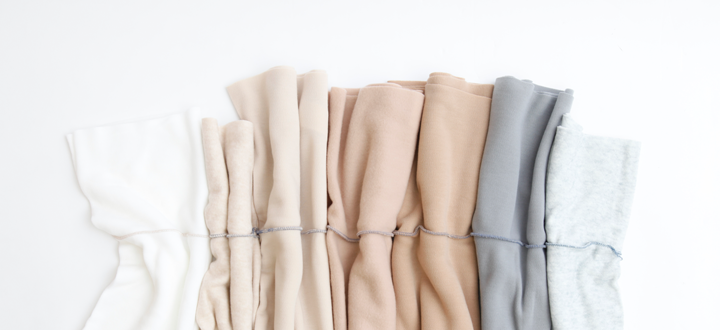 10,000 creators meet PASS THE BATON. The third competition's theme is devoted to recycling and to "Rakuda cloth," the warm textile fabric pioneered in Japan. This round competition will challenge designers to transform their ideas into attractive products, including winter undergarments like comfy half-length long johns and shirts that require innovative production processes.
We spoke with Mr. Keisuke Takemura of AZU Co., Ltd., the founder of the unique Steteco brand (steteco.com), who provided the raw materials for the current project.
The charm of "Rakuda," a must-have for winter

This "10,000 creators meet PASS THE BATON" project will spotlight "Rakuda cloth," the textile from which cozy winter undergarments are made.

"Rakuda" may sound like a material for undergarments worn only by old folks. What is it, really?
The project's theme, "Rakuda cloth," is a textile product that embodies Japanese expertise in textile production. The material's uniqueness lies in the thick fluffiness and the raised underside nappiness that feels so soft on the skin. This supremely comfortable material is the company's mainstay textile product. It is made through the cooperation of three factories in Aichi, Mie, and Kumamoto prefectures.
Its perfect feel and comfort have attracted more than a few die-hard fans. They no longer feel good in thin, light underclothes from big companies. They say "Give me only cozy Rakuda and nothing else!" Some Rakuda fans live abroad, and they send many queries. Mr. Takemura says, "Most of our products are unseen when normally hidden underneath outerwear, but they fit snugly. More than good looks or style, their essence is how they softly envelop the skin and feel so good. The feel is absolutely unsurpassed by anything from any major company."
There may be some workers in the plant who understand the qualities of the material but wonder whether a truly good-looking product can be made with it.
Perhaps this will be a hint about changes to our design concept and perspective, but the brand started by Mr. Takemura in 2008, called
steteco.com
, originated with a maker of undergarments for the elderly that was founded in Osaka in 1974 . He succeeded in transforming it from steteco, a company that was rightfully called a prime example of a primitive underwear maker, to a purveyor of the most stylish fashion items.
Let me tell you about this great feeling!! A insider chat about the birth of steteco.com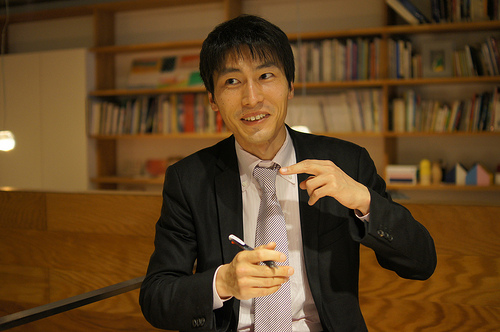 "I thought that wearing one more layer of clothing on a hot day would just make me hotter, but I was really surprised by how good it felt."
Mr. Takemura dreamed his steteco dream when he had just joined the company. The key moment came when his supervisor recommended that he try wearing the half-length long johns under his suit in mid-summer.
Steteco, when worn under trousers, absorbs and then releases perspiration, eliminating stickiness and bringing a new comfort to summer living. Also, when coming home, a man can undress down to his steteco and relax right away. That feels great. Even young people who once thought of steteco as "primitive," "for old men," or "ugly," quickly change their minds to "hey, these feel great!" and "these will probably sell" as soon as they try them on.
It may sound a little outrageous, but it's fair to say "try them once and you're hooked." Steteco are now even rumored to be poisoning the rest of the industry. From the start, Mr. Takemura thought they are a pretty attractive product. So he thought "I want to make something that the younger generation, even women, will wear, even if they've never once tried on a pair of steteco in their lives." And he set up his new brand with this in mind.

A bold strategy of not selling in places where undergarments are sold
The new steteco.com brand got traction with the cooperation of various people inside and outside the company. Mr. Takemura paid attention not only to updating the designs but also to where steteco were sold.
"I thought that steteco could be intriguing, in sharp contrast to the ugly, old-fashioned reputation among young people, including me. To elicit interest in that intriguing quality, I decided to search for sales venues that would let people see steteco in a new light.
"I tried approaching various retail outlets, mainly museum shops, boutiques, and home merchandise shops. From the start I deliberately avoided the underwear departments of conventional department stores and supermarkets."
This strategy brought success. The product was picked up in fashion magazines and other media starting in 2008, the year of its launch. Furthermore, just as Mr. Takemura thought, people who actually bought steteco were enthralled by the feel, and fans proliferated through repeat purchases and word-of-mouth advertising. Today, awareness had risen to the point that big apparel makers, driven by stetco's popularity, have started developing steteco collections positioned as at-home lounge wear for young people.

A radical new approach — Japanese sensibility and a warm material
We asked Mr. Takemura, who had spoken so passionately about Rakuda cloth, steteco, and Japanese style undergarments, what he hoped for from the participants in the 10,000 Creators Meet PASS THE BATON.
"Although nowhere is there a written record, Rakuda cloth has been produced for over 35 years, since before the advent of widespread air conditioning. This background proves its worth and goodness absolutely. I would be very happy if designers can make it into new forms. I want designers to understand that the inside meaning of this expectation is that I want to work together on a movement for the rebirth of Japan's Rakuda cloth."
We look forward to the emergence of innovative recycling project concepts that engage Rakuda cloth's warmth, texture, and fluffy round shape while also completely reversing its old reputation.