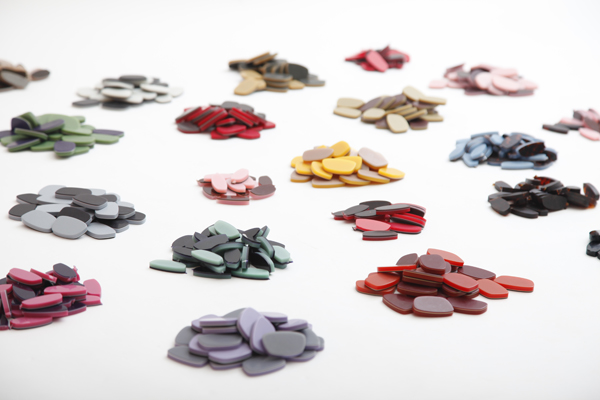 JINS manufacture millions of glasses frames, and this process results in a lot of resin remnants being produced. We want to breathe new life into this material!
This "10,000 Creators Meet PASS THE BATON" is a collaboration with eyewear brand "JINS", which continues to make great strides under its concept of "making a new norm".
The theme is the glasses frame remnant material which is produced in the glasses manufacturing process. This remnant material, which comes in a variety of colors, may be small but there are lots of it and it is easy to process – it has great potential to be made into something.
So why is JINS entering into this recycling challenge? Is it going to apply this to its own products? We spoke to Yamura, who works as the marketing office manager at JINS, and Tsuchiya, who handles procurement.
Resin remnants – Difficult to recycle up until now…
JINS was the first in the eyewear industry to provide an over-the-counter glasses collection box, and is actively involved with recycling.
However, a decent solution to the recycling of resin remnants produced in the manufacturing process has yet to have been found. While in the past eyeglass cords made from remnants have been created as a novelty and distributed to Customers, it has been difficult to find a way to use them in mass production. At present millions of remnants are produced annually and there is no option but to dispose of them.
This is why the oval shaped resin remnants created by cutting out the hole in the lens part of the frame is being tackled in this "10,000 Creators Meet PASS THE BATON".
This resin is known as acetate, the raw material of which is plant fiber such as cotton and pulp. Acetate* is what is used in almost all plastic glasses and is generally referred to as cell frame.
* However, JINS "Air Frame (R)" uses a resin material other than acetate.
"Acetate" can be cut, sharpened, and stuck… It can be processed freely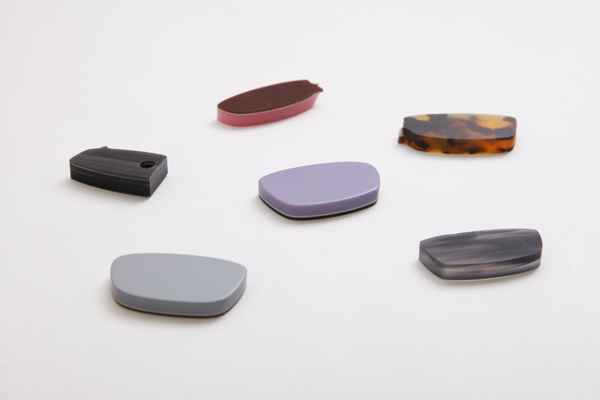 Acetate has great coloring, and is known for how its color can be changed freely, and has a great variety, including resins that have been laminated with multiple colors,
demi (tortoiseshell patterns) which give a sense of depth to a pattern,
transparent resins, non-transparent resins, etc. Acetate is the perfect material if you want something which can hold a beautiful layering of multiple colors.
It can be processed by cutting, scraping, and sticking. It can also be polished beautifully through a polishing process known as "buffing". As it is fairly strong, it can also be sculptured and cut with a laser. Although it is 6mm at its thickest, it is also available as thin as 4mm. It can also be bent through the use of heat.
It's new, but isn't it sharp? JINS' brand story
Before the "JINS" brand launch in 2001, the Japanese glasses industry had a conservative distribution network and sales system, and it was considered normal for glasses to be something that cost several hundred dollars.
President at JINS creators, Hitoshi Tanaka, started JINS with the idea of "let's change everything" as the old sales practices of glasses were no longer suitable for consumers. Since then JINS has rolled out line after line of new items such as the lightweight "Air Frame(R)" glasses and "JINS PC(R)" glasses for PC use. This has led to it becoming an incredibly popular eyewear brand.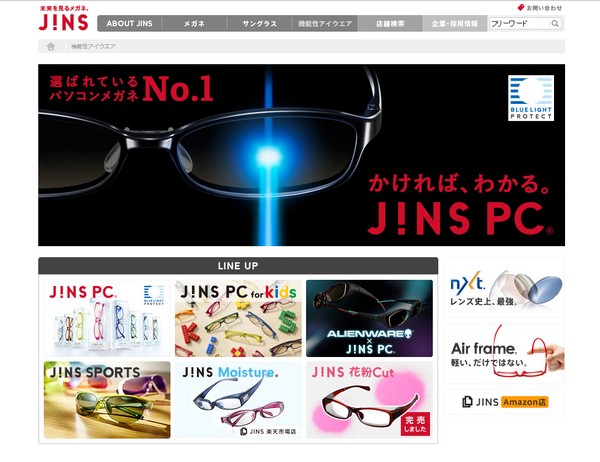 The aim of JINS is to create products which are "new", not odd. JINS aims to produce eyewear for the world that will steadily become the new norm, and for this reason looks for things that will be accepted by the public at large. It places great importance on the views of the masses.
This is why a feature of the products is that despite a rich variety of frame colors and patterns, it is easy to choose a frame which looks normal.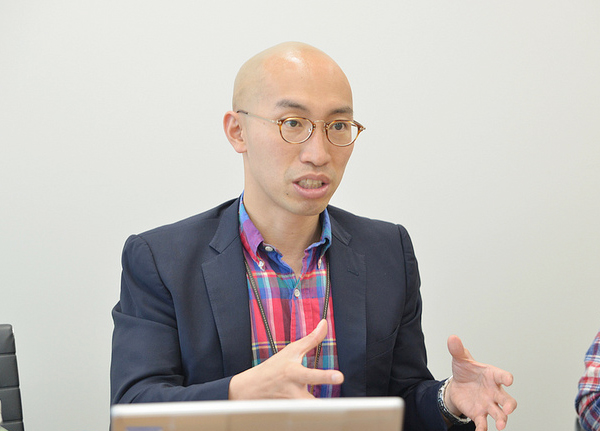 "As they have been designed in accordance with the average Japanese face type, anyone can wear them. Glasses made by overseas brands often do not fit the face and nose of Japanese people." (Yamura)
The fixation on providing added value to the lifestyle of many is reflected in all aspects, including the setting of price and value, and the design of the product.
"We don't really make 'items for followers of cutting-edge fashion'. Our philosophy is to produce for the masses." (Yamura)
The "Idea" of the manufacturer of 6 million pairs of glasses
JINS manufacture and sell around 6 million pairs of glasses per year. In order to achieve the simple price that the brand is renowned for, the main premise was to provide high added value products cheaply, and to continue stable production. On the other hand, the production of glasses requires manual work such as polishing, and according to Tsuchiya this precision effects quality.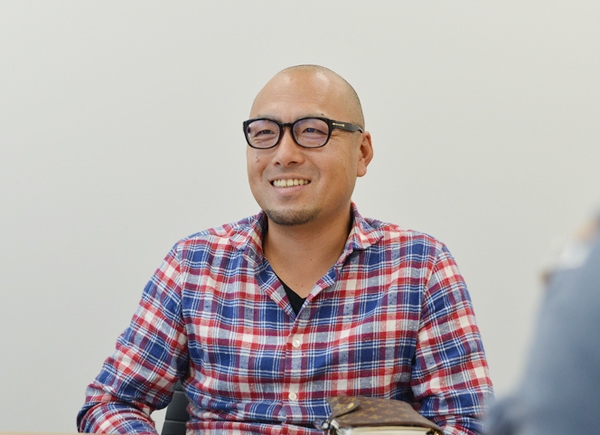 "Demands on quality by Japanese consumers are even higher than in other countries. Function, fashion, and peace of mind. These three factors are always demanded and must be met in everything that we produce.
Because of this we try to accurately convey and make understood our philosophy on manufacturing, and the meaning and background of our products, to our partner factories overseas. We don't just say 'make this at this price', but I think we try to ensure that our products are not finished in the same way as other places. To convey our meaning in one word, I would say that the finish should always 'be changing'." (Tsuchiya)
Let's lend a creative hand to this unsung material!
Tsuchiya and Yamura are both looking forward to hearing from all creators.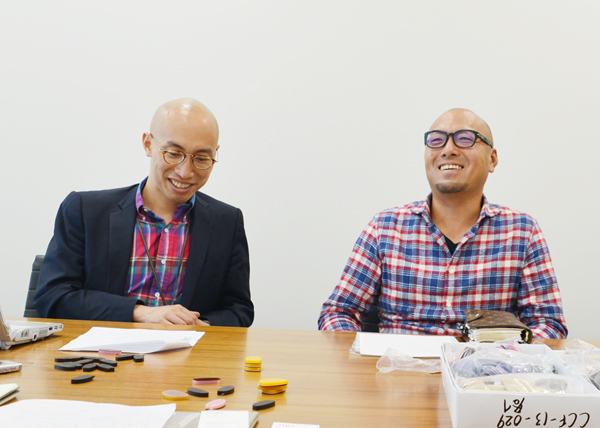 "We don't want to confine ourselves to glasses, we would like hear proposals for new items with a different angle and feel.
We are also delighted that this material is going to be made good use of. JINS itself is looking again at the glossy, deep-looking, etc. texture of acetate. While it is a material that is not generally in circulation, it is easy to use. Despite its size being limited, I think this is definitely a fascinating subject." (Tsuchiya)
"Most of all, We want fascinating things to be made! That is what we are looking for. This is because these 'unrewarded children' are really excessive (laughs). We are hoping for bold ideas which go beyond glasses frames.
If the remnants can be reused thanks to the ideas of creators in this event, it would be something that our company could not have achieved by itself, and would give the remnants new value. So please, do your best!" (Yamura)
Even though there is so much of it, this material never sees the light of day, so please lend your creative hands to it! Design ideas will be accepted until 9/2.
---
Tags: 10000me04, project04_en